Main Menu & High Tea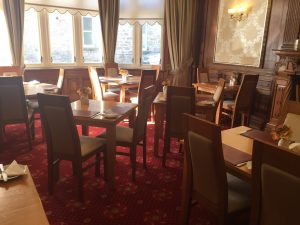 Click on the link above to view our menu.
Set Lunch/Dinner Menu and Set High Tea Menu Available for groups of over 20 people.
Private Dining available at a charge, please contact reception for more information. We can cater for groups up to 150 people.
For any special dietary requirements, please contact reception before your visit.
We cater for Gluten Free, Vegan and Dairy Free.
Opening Times:
Mon-Sat
Lunch – 12.00 – 14.00
Afternoon Tea – 14.00 – 16.00
High Tea – 17.00 – 19.00
Dinner – 17.00 – 21.00
Sunday
Lunch – 12.00 – 14.00
Afternoon Tea – 14.00 – 16.00
High Tea – 16.00 – 19.00
(No Dinners)